These are one-year online learning programs with 10 modules for each course.  All are assignment-based assessment and marking are carried and vetted directly by UK-ATHE.
UK-ATHE Level 3 Diploma
Introduction to Management Level 3 University Foundation Programme
Business Management Level 3 University Foundation Programme
UK-ATHE Level 4 Diploma
Business Management
Sales and Marketing
Hotel and Hospitality
UK-ATHE Level 5 Diploma
Business Management
Hotel and Hospitality
ATHE is a global awarding organisation regulated by Ofqual and other UK and international regulators. ATHE works with 250 recognised centres in over 50 countries to complement the strong brand presence in the UK.
ATHE offers a wide portfolio of vocationally orientated and internationally recognised qualifications. And the ATHE qualifications are approved as progression pathways to relevant Bachelor's and Master's Top Up degrees by a growing number of UK and international Universities, providing significant tertiary education opportunities for our learners.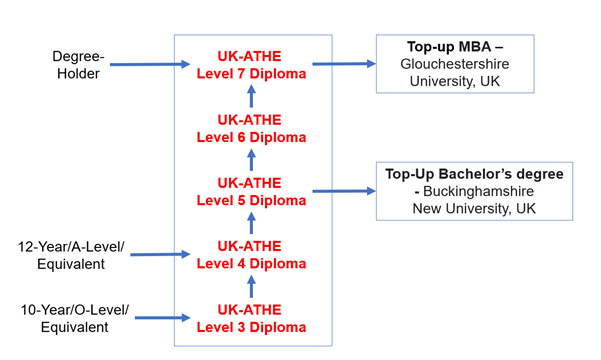 Our learning centres provide preparation course to support and help our candidates to cope and manage the learning.
Learning-to-Learning (2L) Preparation Course

IELTS Placement Test
3 Modules

English Mastery™
IELTS (Online)
Assignment Project Skills

We emphasise throughout the foundation term & in every term and module using similar skills

Learning Method
Thinking Solutions
Personal Mastery

Continual Learning-to-Learn Practice

As they practise in each module, they will get better & better.
Key is trainers must also reinforce using consistent methods & terms in each module.
CMAA-ATHE Course Director:  Ng Kok Chuan, Director, Career Mastery Academy Asia
Do contact us for more information & advice:
[email protected]
English Mastery™ for Career

8 Online Lessons
1 Online Placement Test
8 Online Practices
4 Online Coaching Sessions
8 Online Lessons
1 Online Placement Test
8 Online Practices
4 Online Coaching Sessions
The Art of Story-Telling & Speaking (Coming Soon)
English Mastery™ Read-to-Understand Test
1 Online Test (with Marking)
Resume Writing (Coming Soon)
5 Online Lessons
Resume Vetting & Advisory via eMail
Resume Vetting & Advisory
Interactive Interview (Coming Soon)
5 Online Lessons
2 Online Interview Practices & Advisory